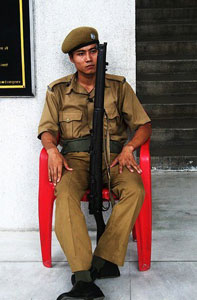 With the support of our expert professionals and their valuable knowledge, we are offering quality bound services to our clients. We ensure that these services conform to the diversified requirements of our clients and are rendered within the stipulated time frame. Our clients can avail security services, manpower out sourcing services, personal security and gunman services. We cater to the needs of various elite business houses, industrial units warehouses & banks, hotels, restaurants, housing societies, bungalows, showrooms, commercial complexes, construction sites and government establishments.
Security Service
Out Sourcing Manpower
Personal Security, Gunman
Services Provided by Us -
Timeliness
Reliability
Transparency
Professional edge
Security Service -
We give a new definition of security. Our services are integrated and holistic to provide all-round coverage of various security aspects likely to threaten and disrupt business.

Trident Security's network of screened professionals is field- tested and has solid experience. This is why you will not take an unknown risk when you take us as your partner. Less-than -professional services may leave your business, life and property open to easy access and long term damage or risk to life and property.
Out Sourcing Man-power -
Our company has a very good reputation in providing Commercial Manpower Services. Our services are cost effective and are rendered even at a short notice. Several commercial establishments, industries, firms, offices and other institutions utilize our services. Some of the features of commercial staffing services.
Personal Security, Gunman -
We are specialized in providing physical security services like providing man with pistol / revolver and gunman to our widespread clients across the country.Our operational activities are administered by various local officers from multiple locations across the country.

We serve various individuals and celebrities, and are also engage in offering personal security cover, private security services, private security guard services, private armed security and man with pistol/revolver and Gunman to our clients. We offer private protection & security services to our clients, which includes individual, an entity or an event.